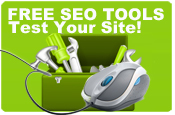 FREE SEO AUDIT Tools | ONLINE SEO CHECKER
Simply enter your website URL (yourdomain.co.uk) into the box below.
Then enter the Anti-Robot code to prove that you are human and the SEO tool will then examine your website.
The FREE SEO Tool will then show you how the search engine spider views your webpage.
This is one of the best and most useful FREE Internet marketing tools available.
FREE SEO CHECKER AUDIT Tools Online
The FREE SEO "Search Engine Optimisation" information supplied here from this FREE SEO Checker is to be used at your own risk and Chameleon Web Services only provides this information as a reference for an SEO Consultant to be able to use.